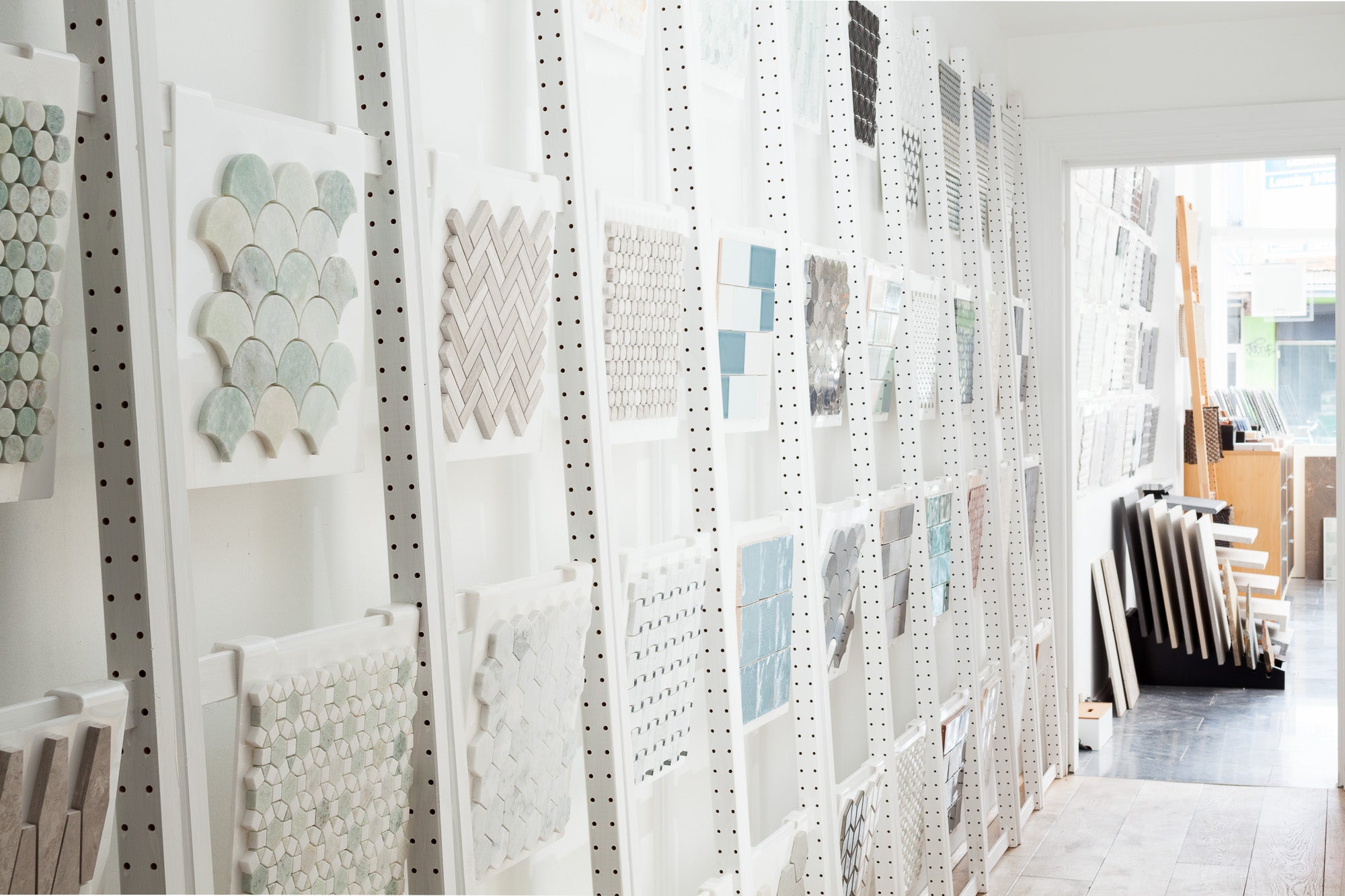 "Byzantine Design is a collaborative space that is recognised within the design community for our authentic approach to providing creative solutions, utilizing our collective knowledge, authority and wisdom. We pride ourselves on building loyalty through exceptional service and nurturing strong ongoing relationships."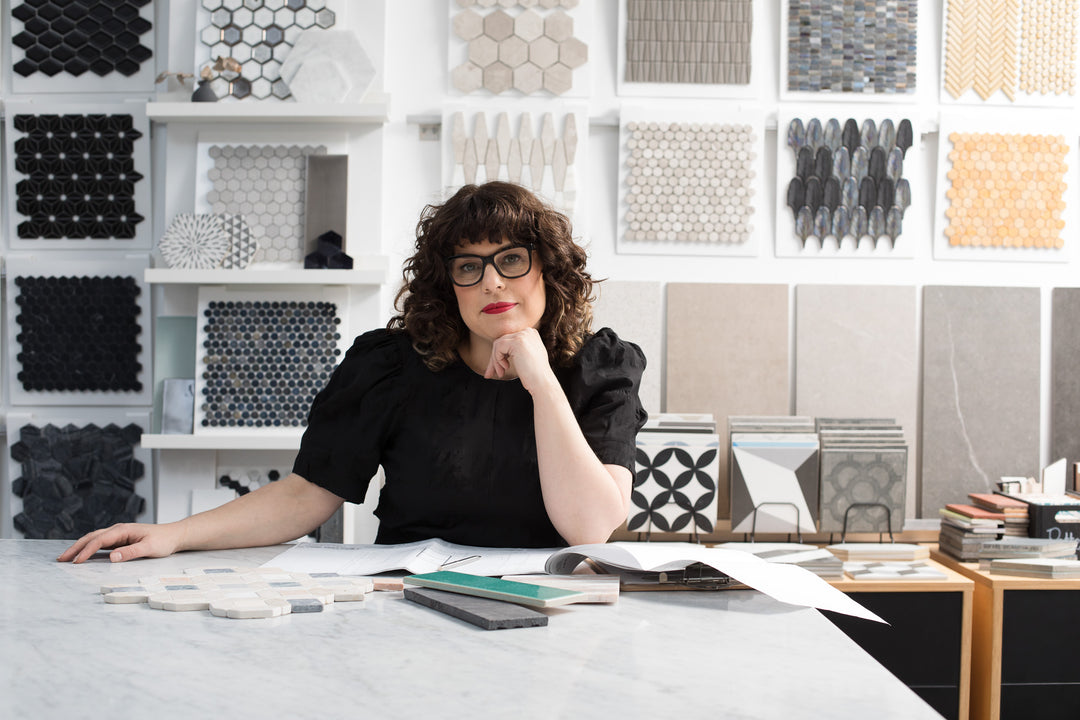 Byzantine Design is the product of a journey.
As a young girl, Dara wanted to be an archaeologist – fascinated by the history and stories that surrounded her. While working in the tile industry, and inspired by that early curiosity, her passion was set when she fell in love with stone. She recognised that every piece of stone held a different story, combining the beauty and mystery of archaeology with a physical product she could hold in the palm of her hand. She knew then that stone had an energy to it that manmade products didn't possess and that love of stone became an integral part of Byzantine Design.
While working for others, Dara set up Byzantine Design as a bathroom design business that also supplied beautiful tiles. From here she honoured her passion and shifted the business to focus purely on tiling. What started out as a side hustle is now a purpose-led business that calls Melbourne home, alongside a beautiful retail store in Prahran, supplying and servicing clients Australia-wide. Although that's not quite the full story.
About six weeks after opening the store in Melbourne, Dara flew to Sydney and fell over while walking through a shopping mall. That fall was the catalyst for Dara's diagnosis of Multiple Sclerosis. While many encouraged her to close up shop, she refused, determined to keep her dream alive. Instead, she hired a team to manage the store while she went to rehab to learn to walk again.
This is the story of Byzantine Design and this one of the reasons that makes it so special.
Byzantine Design brings together a community of like-minded design lovers.
We're about so much more than a simple tile.
The materials we fill our spaces with have the ability to affect our every day and evoke a sense of inspiration, modernity or nostalgia. Choosing a tile is not simply about how it looks, but how it feels – the texture of the surface against your skin, its power to transform a room and its ability to incite an emotional response. Our business is in curating beautiful materials to create spaces that make you feel alive. It's built on passion, dedication and a genuine and lasting love for design.
We work with Australia's finest stone and mosaic importers to create a unique collection of products and enable custom designs for residential and commercial projects. We pride ourselves on personalised and knowledgeable service and combine this with extensive technical skills and product knowledge that allow us to turn dreams into reality.
We may be biased but we truly believe that Byzantine Design is the most beautiful tile store in Melbourne. Come see for yourself.
Please note: We do not ship overseas: Australia only.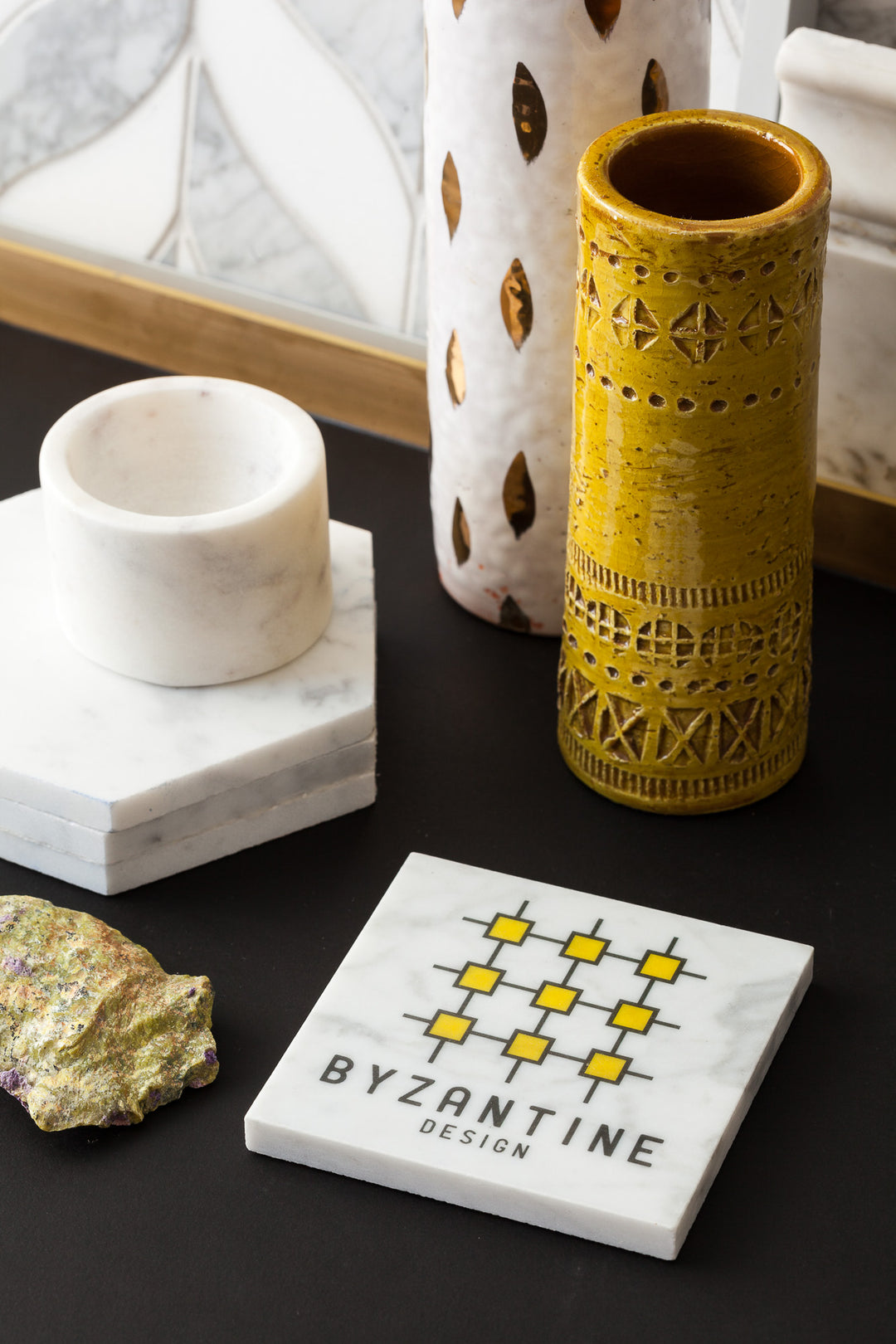 Dara
Dara is the founder and "TileEO" of Byzantine Design. Dara has 20+ years of tile experience. Dara is good to talk to when you want someone to tell you how it is in a direct manner, whilst staying true to your vision for your project and your goals. She speaks fluent Pinterest so bringing in a board with a vision will get you far in communicating what you're looking for in your tiles. Dara believes that pineapple does belong on pizza and that leopard print can be classified as a neutral. She also thinks that animals are the best people and everyone should definitely bring their dogs into Byzantine Design when they visit (it's a dog friendly showroom so feel free).
Dara thinks that swearing is a mark of intelligence; stickers do not belong on fruit; reality TV is ruining society and peppermint tea can cure a lot of ailments.  She prefers conversation over texting and can't read graphs.
Dara's colleagues think that she is an encyclopedia of random information that is both relevant and irrelevant, and Laura wonders why Dara has enough time to even consider the stickers on fruit.
TLDR: Dara is committed to helping you find the most suited tiles for your project in an efficient manner.
Dara is available Monday, Tuesday, Wednesday & Friday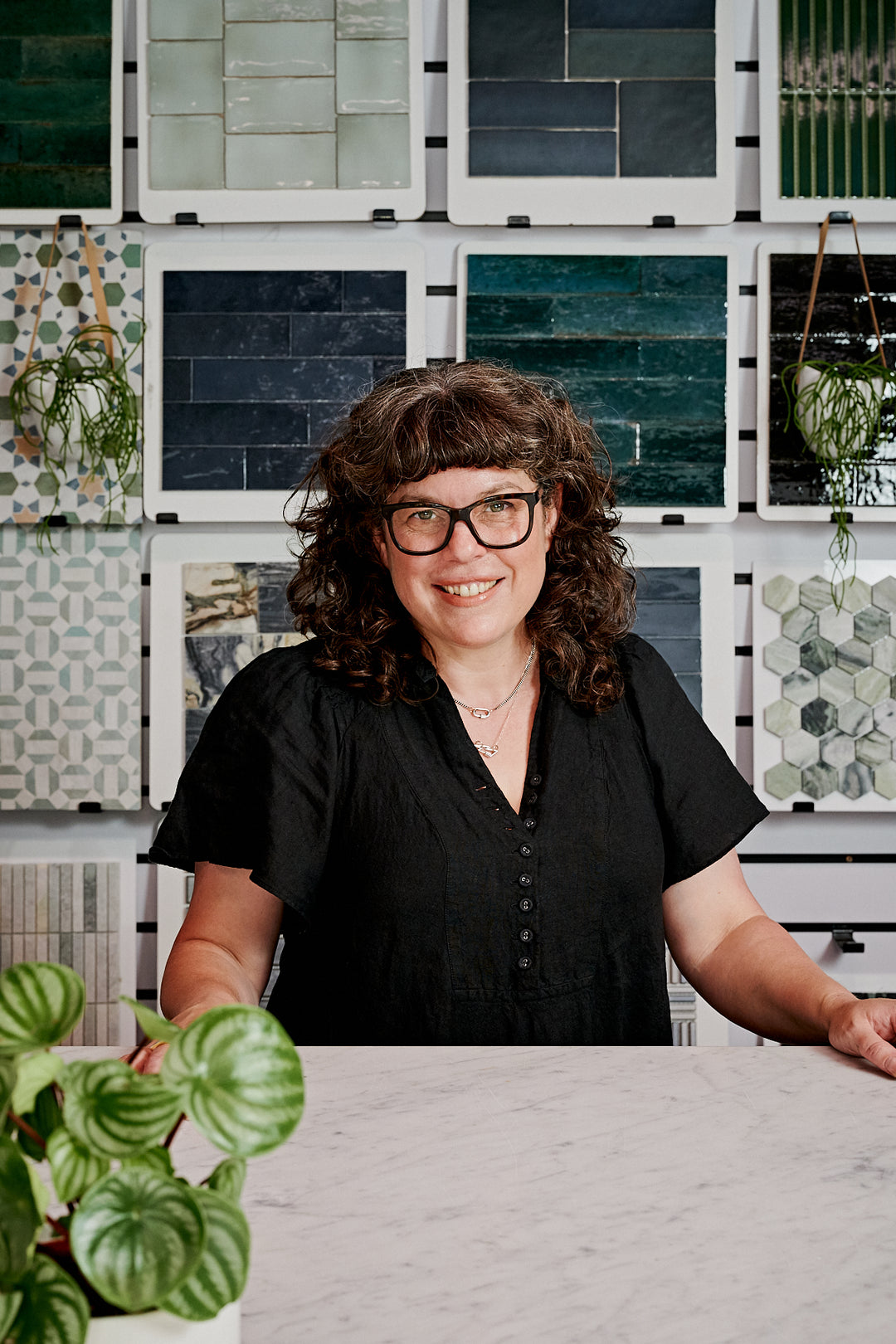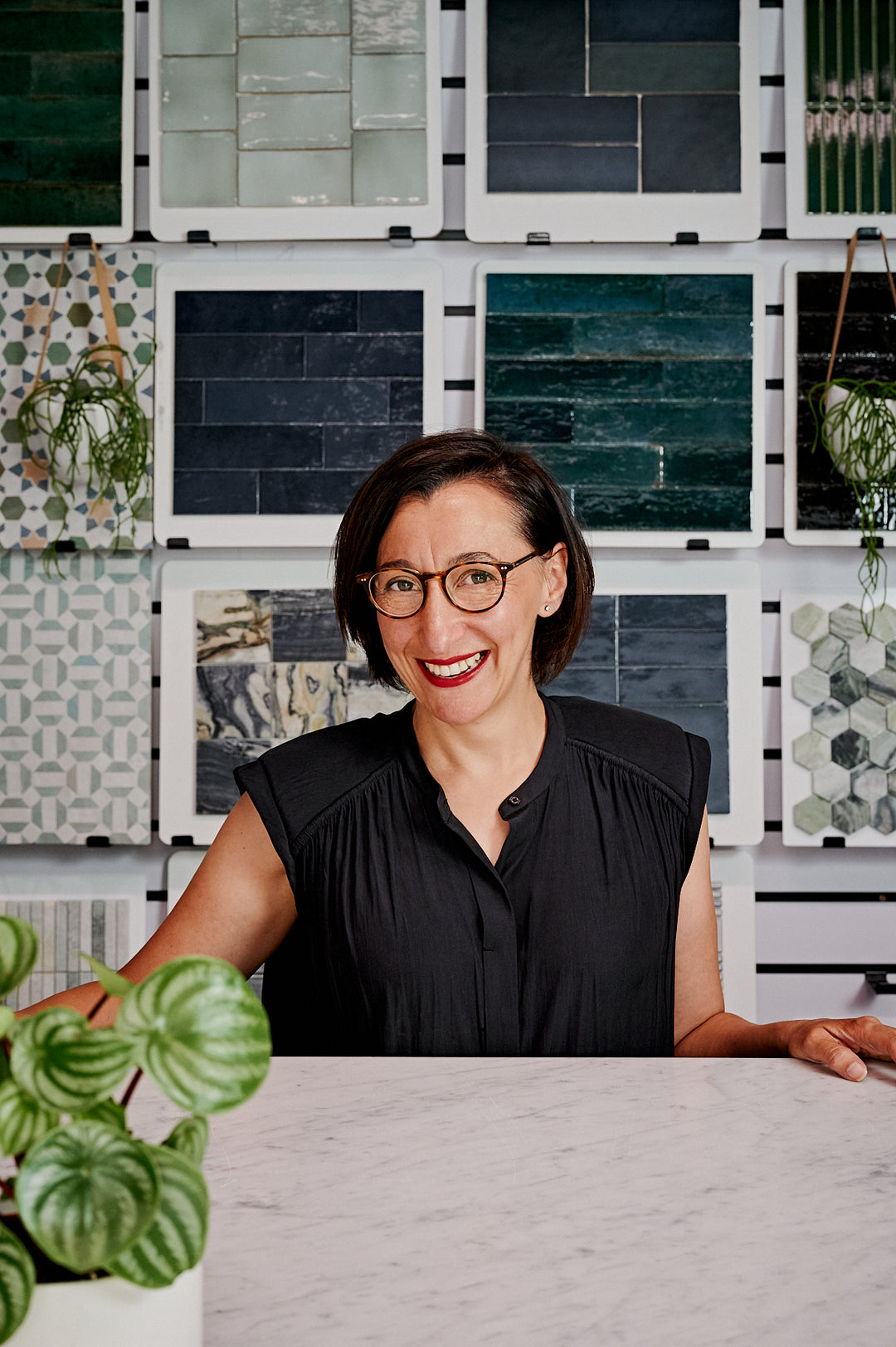 Laura
Laura is the sales and design consultant at Byzantine Design. Laura also has 20+ years of tile experience.  Laura is great at helping you consider the strengths and weaknesses of different tile options and suggesting alternatives that you maybe hadn't thought of. Laura also responds well to pinterest boards and any other photos you have of your dream room that she can adapt to fit your blank canvas.
Laura is a Richmond Tigers supporter and if she had it her way she would definitely turn the shop into a doggy daycare. She likes coffee, and if a song was to play when she walked into the room, it would be "Eye of the Tiger" by Survivor. Although Laura was in denial about her previous eyesight problems,
she now wears glasses so that she can give you the best tile advice (although we did have a moment there). Dara thinks that Laura purposely rips the tape gun loudly in her ear when processing tile sample orders to annoy her.
TLDR: Laura is great at helping you make decisions or choose between options. 
Laura is available Monday-Thursday and on Saturday
Emma
Emma is our Marketing & Admin Assistant as well as our ray of sunshine and evil mastermind. Her superpower is somehow making us do things for The Gram or TikTok whilst our heads say NO. We say ''NO'' and then the next minute we are out of our chairs doing whatever she says.
Emma is currently studying a BA of Interior Design with Billy Blue/Torrens University and is an incredible portrait artist for her own small biz 'E.V Illustrations".
Show Emma dog videos or photos and she may start crying. She was a Nanny for 10 years, so if you bring your little ones into the showroom they'll be highly entertained and in great hands! When she's not with us, you will easily find Emma playing or watching Football/Soccer, enjoying live music, or reading at a park while eating a McFlurry.
Although Emma's a baby in the tile world, she's been having a blast learning lots with the team here at Byzantine Design.