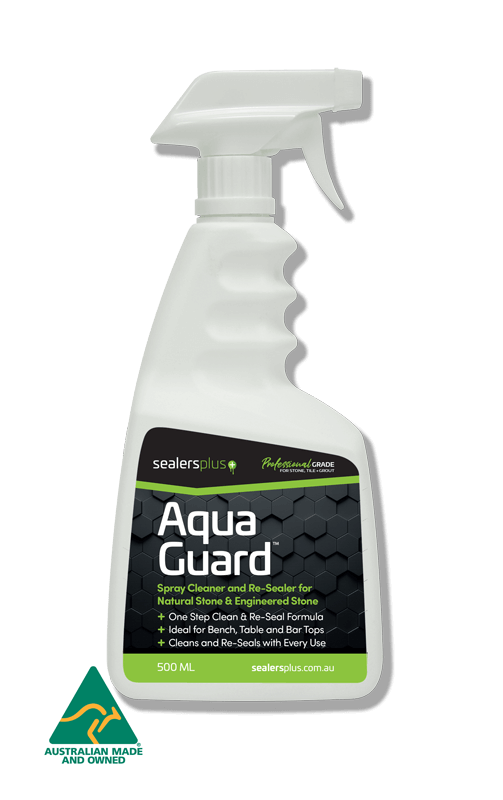 AQUA SEAL AQUA GUARD 500ML
AQS011
These products are available to be bought online from the Sealers Plus website. If you use our code BYZANTINE10 or use this link and you can get 10% off their entire range! This applies to orders within Australia. We also have a range of Sealers Plus products available to view and purchase in-store.
KEY FEATURES
Ready to use everyday cleaner Spray & Wipe
Boosts Sealer Performance
Cleans and deodorisers
Helps dissolve grease and grime
Ideal for all bench tops, table tops, vanities, bars etc
AquaGuard is a new generation ready-to-use one-step cleaner & re-sealer. Use on all sealed Stone, Tile, Grout and other water-safe surfaces to clean surfaces and prolong the performance of the existing sealer. Ideal for domestic, commercial or industrial situations. Helps to remove surface dirt, grease & grime plus inhibits the growth of mould, mildew and odours. Boosts the performance and longevity of existing natural-look penetrating sealers.
Note: For high traffic, commercial or food areas or where premium performance/stain resistance is required, for a natural look use AQUA-SEAL GOLD+ and for a colour-enhanced, enriched look use ENHANCE 'N' SEAL.
AquaGuard Spray & Wipe Cleaner & Re-sealer For Sealed Natural Stone & Engineered Stone (Bench Tops, Table Tops, Bar Tops...)
We now ship samples directly to your door. Add to cart and checkout (samples are free - just pay shipping) or call/email us and we can arrange with you directly. Whichever you prefer!
NOTE: THERE IS A LIMIT OF 6 SAMPLES PER ORDER - we respectfully request you only add up to 6 samples to your cart.