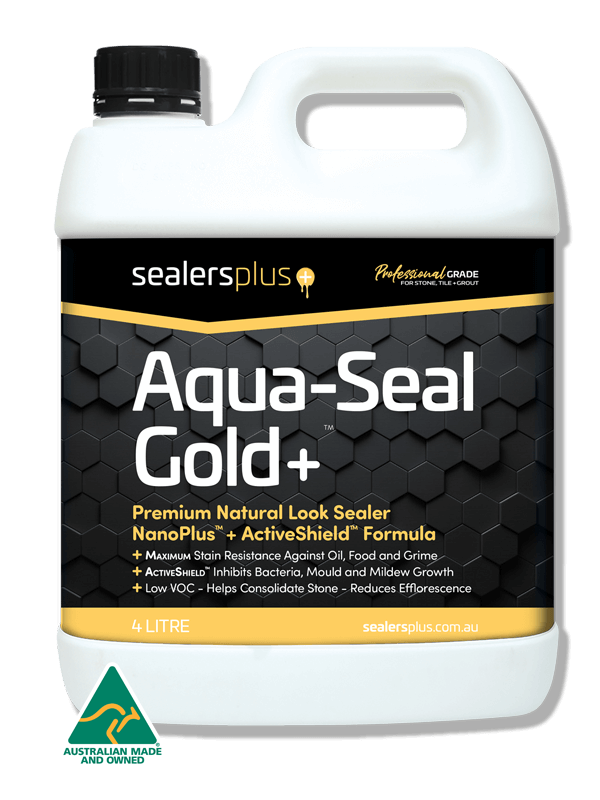 AQUA SEAL GOLD+ 4L
AQS007
These products are available to be bought online from the Sealers Plus website. If you use our code BYZANTINE10 or use this link and you can get 10% off their entire range! This applies to orders within Australia. We also have a range of Sealers Plus products available to view and purchase in-store.
KEY FEATURES
C6 Fluoro-Seal - Low VOC - Water-Based Formula
Used & Trusted by Professionals - The Gold Standard
Rapid-Seal STS to provide stain resistance in 4 hours
Maximum Stain Resistance Against Oil, Food and Grime
Natural Look - Non-Yellowing - Non-Coating - Non Toxic
Reduces Freeze/Thaw Damage, Spalling and Efflorescence
Inhibits Mould and Mildew - Ideal To Use As A Pre-Sealer
AQUA-SEAL GOLD+ Used & trusted by Professionals. Perfect for when you need to make the right sealer choice. Provides Maximum Stain Resistance against oil, food and grime. Inhibits mould and mildew growth. AQUA-SEAL GOLD+ is a below-surface, penetrating type, natural-look sealer. It is water-based and non-flammable. It is non-yellowing, non-coating and UV resistant. It can be used as a pre-grouting sealer to help prevent grout haze and grout staining. Reduces freeze/thaw damage, spalling and efflorescence (salt deposits). It is breathable and allows excellent Moisture Vapour Transmission. Formulated with the latest Nano-AQS plus Rapid-Seal STS Technology. Provides maximum stain protection in 4 hours (Rapid Seal).
For porous surfaces e.g. all-natural stone like basalt, bluestone, granite, limestone, marble, quartzite, sandstone, slate, travertine etc plus porcelain tiles, encaustic tiles, terrazzo, concrete, pavers, saltillo, grout and other surfaces where a natural look and maximum stain and water resistance is required.
Safe to use in food preparation and serving areas. For indoor, outdoor, domestic & commercial areas.
For high traffic, commercial or food areas or where premium performance/stain resistance is required, for a natural look use AQUA-SEAL GOLD+ and for a colour-enhanced, enriched look use ENHANCE 'N' SEAL.
We now ship samples directly to your door. Add to cart and checkout (samples are free - just pay shipping) or call/email us and we can arrange with you directly. Whichever you prefer!
NOTE: THERE IS A LIMIT OF 6 SAMPLES PER ORDER - we respectfully request you only add up to 6 samples to your cart.