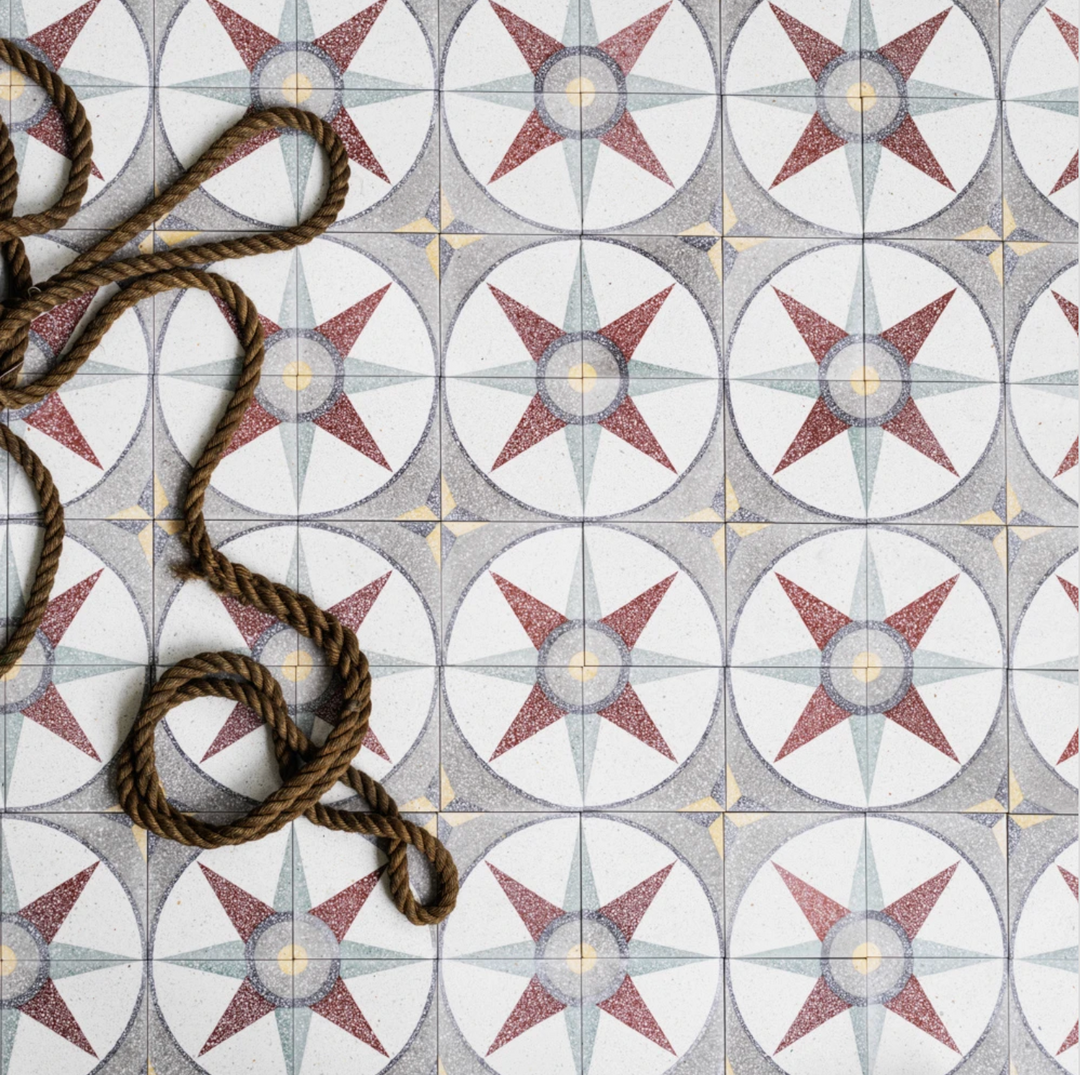 TRADEWINDS COMPASS SMALL ENCAUSTIC 150X150X15MM
BDT1363
Tradewinds is inspired by an imaginary retired captain who resides in a shiplap house where the forest meets the sea. Who nowadays wanders the shores happily beachcombing & birdwatching and keeping to the rhythm of the sea. He may have a parrot and his house is littered with souvenirs & curiosities from his seafaring adventures to faraway shores.
My collection, although in a variety of materials of encaustic cement and marble, is collectively steeped in nostalgia & the romance of times gone-by of manned lighthouses with keepers, magical sea-creatures, wooden ships with canvas sails, mer castles and exotic spices & riches from foreign lands.
A range that encourages you to mix and match to suit your wooden seaside house or your French Chateau. A combination of encaustic colours and patterns that conjure up the romance of the seafaring adventures that then traverse to a marble selection that are inspired by my many travels and the notions of faraway lands and magical finds. Timeless, classic with a hint of humour, and a dose of nostalgia.
One of my favourite symbols, as much to always know where north is as where you are going. COMPASS is available in 300x300mm and 150x150mm sizes
Material - Concrete
Size - 150x150mm
Thickness - 15mm
Sqm per box - 0.27sqm
Wall
Floor
Internal
External
Sealing required - THIS PRODUCT IS PRE-SEALED
Do not use chemicals to clean
General Maintenance Required
We now ship samples directly to your door. Add to cart and checkout (samples are free - just pay shipping) or call/email us and we can arrange with you directly. Whichever you prefer!
NOTE: THERE IS A LIMIT OF 6 SAMPLES PER ORDER - we respectfully request you only add up to 6 samples to your cart.